Posted:
January 22nd, 2009 |
Author:
brosa
|
Filed under:
Brian
|
Tags:
BEST
,
big box
,
ghost parking lot
,
Hamden
,
James Wines
,
Julia Christiansen
,
New Haven
,
SITE
|
No Comments »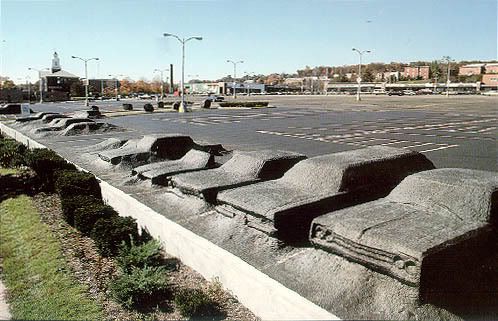 I came across this photo on the Landscape + Urbanism blog and immediately recognized this scene from my childhood, the Ghost Parking Lot. Until 2007 these cars, embalmed in asphalt, occupied the frontage of the parking lot of Hamden Plaza on the town line of Hamden and New Haven, CT. I was fascinated with them when I was little, despite my mom's contestation that they were garish. I skateboarded on them when I was in high school and wondered about their origins; were they meant to be a critical statement, a glorification of car culture, or both? It was, after all, the parking lot of a big box store in suburban Connecticut- not usually the site of the artistic vanguard. Knowing they were MOMA-worthy wouldn't have stopped me from skating them, but I think they were made to be interacted with.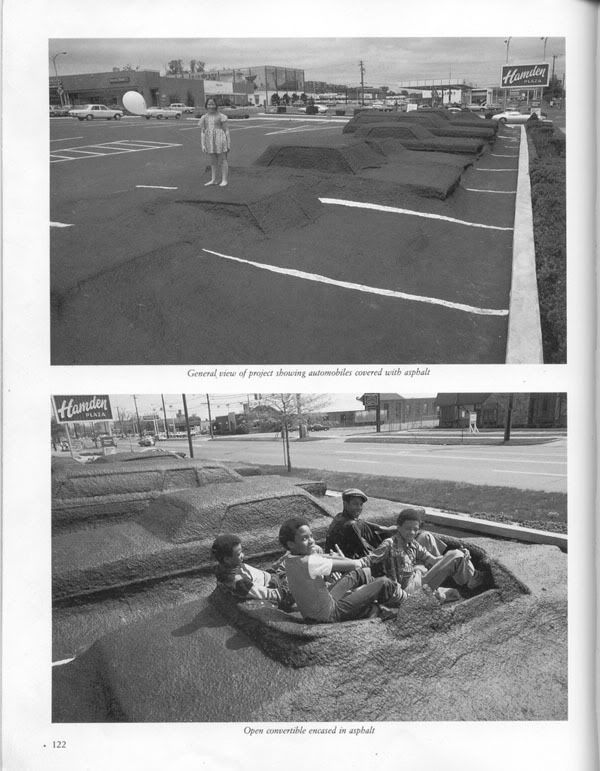 Another blog, A Daily Dose of Architecture, has some videos posted about the architect who designed this installation in 1978. From the 38th second, you can see the cars when they were newly installed and the variety of reactions they elicited.
These cars were the work of James Wines, an architect and designer, with his firm SITE. BEST, a retail store that is long out of business, commissioned SITE to make some pretty interesting big box stores in the late 70s and early 80s. Their seem to suggest their own immanent demise- it almost seems tongue-in-cheek. I wonder how many of these buildings still exist today.
On a related big box note, Julia Christiansen has received a lot of attention for her recent book, Big Box Reuse. I saw her speak on the topic at Cornell, and then saw an exhibition of her work at Carnegie Mellon. While the photography doesn't seem like it was produced by an art professor, it's an exhaustive study of the way that the structures of these stores are used once a store goes out of business. I have a feeling we are going to see a lot of this in the coming years. Strip malls converted to megachurches, museums celebrating Spam, and indoor go kart tracks.
---