Posted:
February 29th, 2008 |
Author:
brosa
|
Filed under:
Brian
|
1 Comment »
Ryder Henry, an Ithaca-based artist and friend of mine, has built a giant model city out of cardboard and other post-consumer waste. It consists of an eerie combination of architecture of the past's future, the present's future, and future's future. Also, a scale model of their house is there (I bet you can pick it out). Here's a video of the city: I think the Serbo-Croatian language tape adds a really nice touch.
I tricked you, it's not really that big. The entire city sits on the kitchen table at Ryder and his girlfriend Maya's apartment. I took photos of it for an hour or so, and kept on finding new interesting spaces. I imagined myself to be an aerial photographer.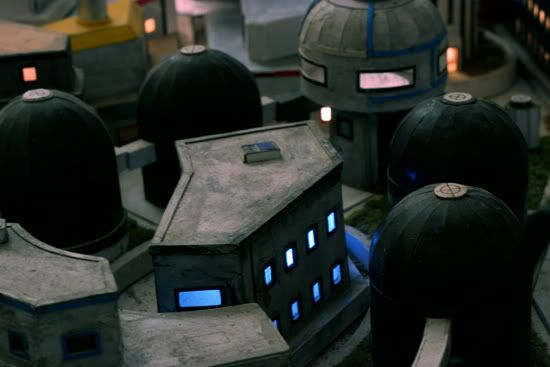 This city reminds me, in some ways, of the Situationist architect Constant Nieuwenhuys' New Babylon– a city of slow and continuous flux, displacement, and constant drifting through space. What if we had a city where our lived space sustained constant programmatic shifts? Would it push us into a ludic state of constant creativity? Could we imagine a city that was disruptive and playful, predictable only in its unpredictability? Whoa dude.
---