Posted:
April 9th, 2008 |
Author:
Sukjong
|
Filed under:
Sukjong
|
8 Comments »
It was a dark and stormy night.
On an unlit road…
On a small island in the Philippines…
I can't explain it exactly, but the setting involves rain, volcanoes, darkness, and being stuck on a road in the back of a truck in the Visayas region of the Philippines. This is when someone told me about the manananggal.
Beautiful woman by day, half-bodied, bat-winged, fetus-sucking apparition by night, the manananggal lands on the roof of a house, sticks her hollow tongue through the thatched grass and into the room until it reaches the belly of a pregnant woman who is, of course, fast asleep, and sucks up her innards. The other half of her body is hidden somewhere for safekeeping, so that in the pre-dawn hours she can fuse back together and resume life as that beautiful older woman who lives down the road.
I wanted to know what the manananggal looked like. But I had no internet, and nothing was open. So I drew the manananggal myself. I asked the storytellers if I was anywhere near the truth. They made some encouraging sounds. But who knows? Drawing a mythical creature was much harder than I thought it would be.
The manananggal plays off some familiar archetypal anxieties. But however familiar, this did not take away from my visceral thrill at the fact that one body becomes two, or that one of them was a torso-less bottom half waiting in the dark.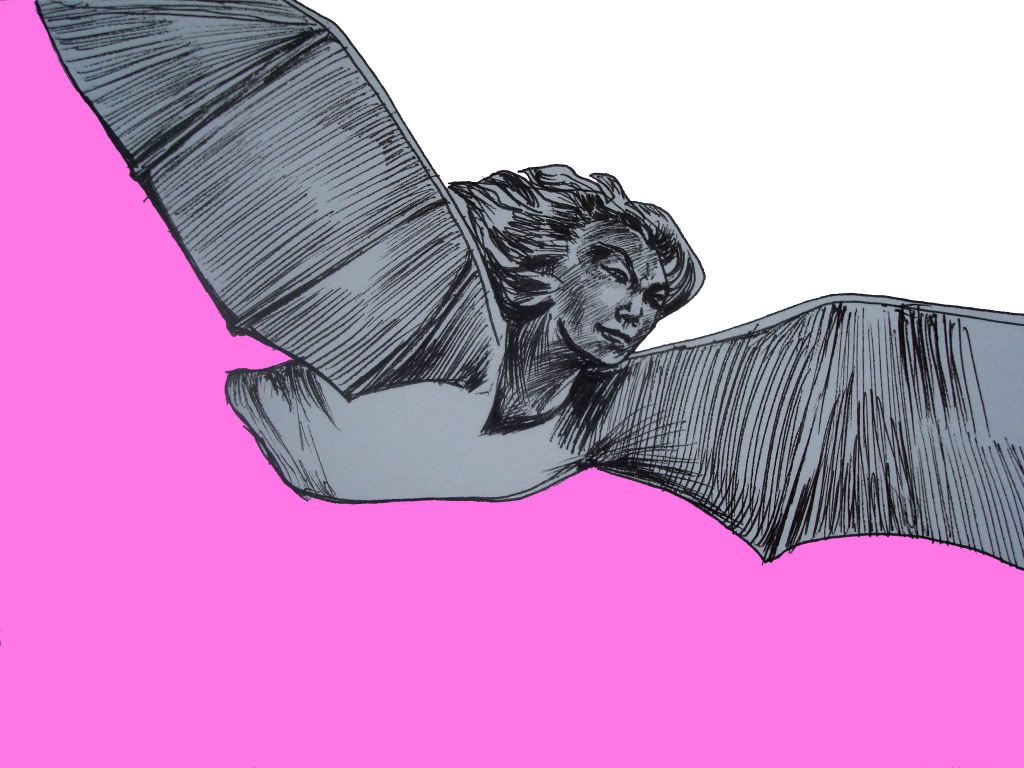 Then I heard that there was a 2005 illustrated reprint of Borges' Book of Imaginary Beings (the Manual de zoología fantástica). Someone borrowed the book for me from a library. But my edition had no pictures!
Now I feel condemned to draw them all.
But first, I got lost in all the prefaces. Borges explains (Figure A)*:

That is, there is hardly a child who has not been to the zoo, and there is hardly an adult who is not neurotic. In the large swath of humanity captured in the intersection between the zoo-going child and the neurotic adult, imaginary beings are. To be less obtuse about it, the imaginary being lives somewhere between a child who sees a tiger at the zoo and immediately knows, "I am the tiger and the tiger is me," and the neurotic adult, whose inner monologue Borges is silent about but I can safely guess is repeating, "That is a tiger, step AWAY from the fence!"
And in the preface, Borges also understands my pain, the pain of wanting to draw mythical creatures endlessly or at least until someone gently takes my pen away. He reminds me that you can't just stitch together any combination of animal parts to get a fantastical creature. There are necessary monsters.
And so I found myself two imaginary beings that I need and that you need too.
Kapila, Piscis karmacaput
Or the hundred-headed fish, formerly a Brahman monk named Kapila, who was caught by some fisherman just as Buddha happened to be strolling by. Meaning, when you know everything like he did and are constantly exasperated with people who get things wrong and end up calling them shit-head, monkey-head, dog-head, bird-brains, etc. this is how you might be reincarnated.
The Squonk,  Lacrimacorpus dissolvens
The squonk is a kind of anti-monster, for lumberjacks. It is self-conscious, morbid, and avoids being seen (all because it IS a monster) – but it can be tracked on quiet nights by the sound of its constant weeping. I feel great affection for anything that, when caught (as it rarely is), can dissolve itself into tears and bubbles. It is perhaps misleadingly catalogued in Fearsome Creatures of the Lumberwoods, with a Few Desert and Mountain Beasts (1910) by Minnesota forester, William Cox.
In conclusion, I am el squonk, el squonk is me.
* for a truly good Venn diagram you must check out the ones on brian's understanderer blog.
---