Posted:
March 23rd, 2008 |
Author:
mnhs
|
Filed under:
mike
|
Tags:
geronimo
,
gonzales gonzales
,
museum
|
9 Comments »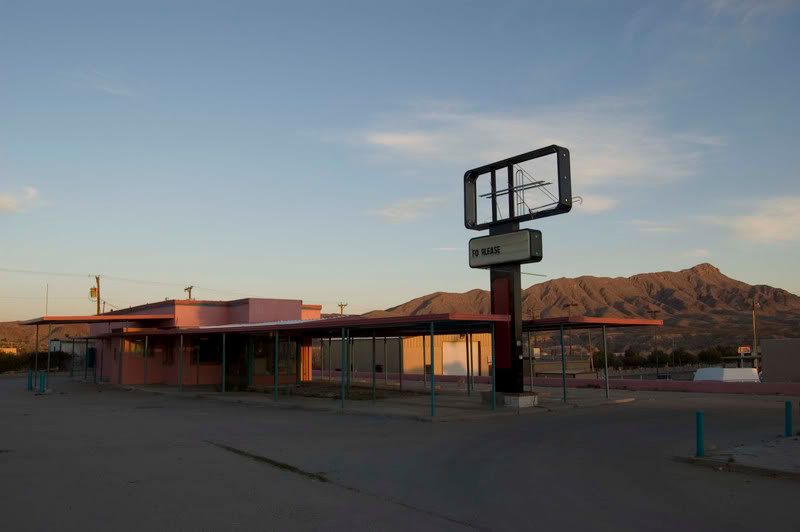 Forgive me, forgive me, forgive me, for I have sinned and am performing the only penance at hand: a forced mini-vacation in Truth or Consequences, New Mexico.
This is no sleepy hollow, nor is it but a stop on the Trucker's Atlas. This is a one-stoplight relic of a town that sits somewhere between Hitchcock's Bates roadside motel and a sun-soaked refuge for the weary, lost and flotsam of our modern age. There are twelve motels, two museums, one gas station and a 110-degree aquifer that broils the town from underfoot. A ditch in an outhouse is a bath; a ditch in the road is a sidewalk.
But what of the museums?
The repository-cum-reliquary is, by my score, old hat in urban locales (see: Museum of Jurassic Technology, City Reliquary, Proteus Gowanus, et al.) and—if anything—so vainly self-conscious and pompously urbane in its quest to turn the museum upside down and express a pedantic reification of 'Museum' that it goes far past lip tearing, surpassing even the self-congratulatory righteousness of the most recent wave of academy-pandering acquisition art. Not that I don't appreciate them, but their tired message of post-graduate level 'creation of meaning' as a mask for novelty is pretty transparent and has worn down to, well, novelty. When will the "/gallery/museum" trend end? Maybe I should just give up and get a job with Bear Stearns—oh wait.
Whereas I'm a tough sell on any new definitions of 'Museum' that creep outside the college bookstore and try to manifest themselves inside the Real World, I have nothing but the utmost respect and adoration for the idea and execution of the Geronimo Museum in Truth or Consequences. I'm all for museum interpretation (aspace, personal pet project, awkward moral imperative, public edification, spectacle-in-progress, etc), but what about something with a bit less baggage?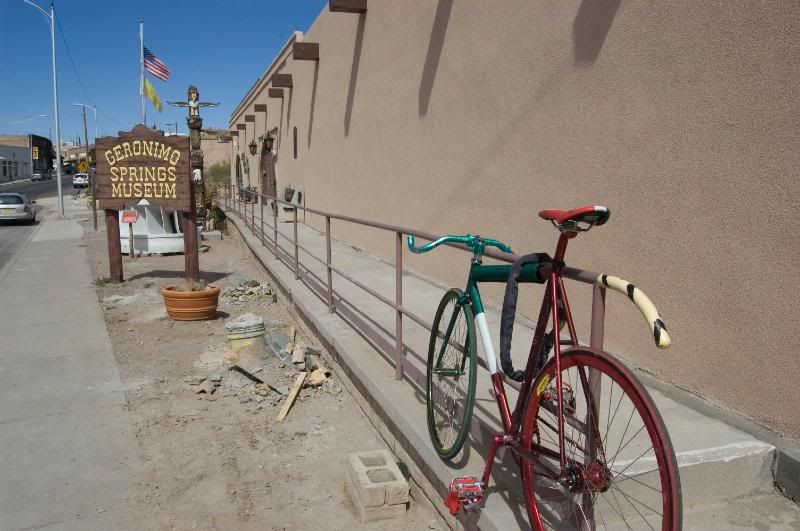 For the first time in a long time, seven codependent rooms called 'museum' made me go 'whoa!' followed by WHOA. It was as if the closets and garages of the city were turned out and combined with the past ten years of middle school history projects to create an insanely personal monument and narrative of a small town that is so unselfconscious, so naïve that it can't be dismissed as novelty—and at a (compulsory) four dollars, it's a far sight cheaper than most museums outside of T or C.
Check it out! There are MAGIC ROCKS!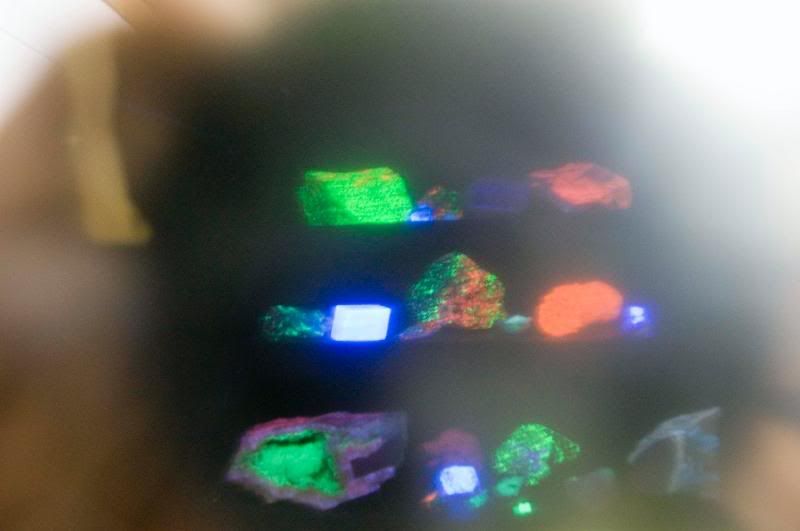 Check it out! This wasn't dug up out of some dusty collection in a library! These people really lived here—and still might!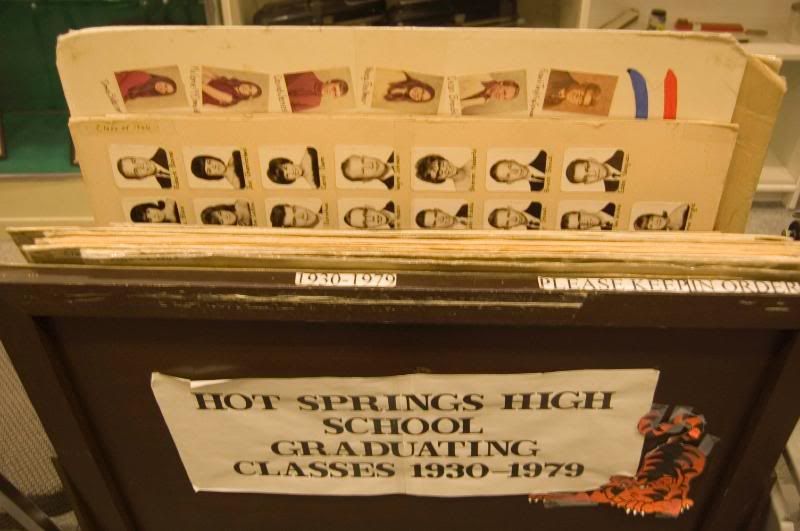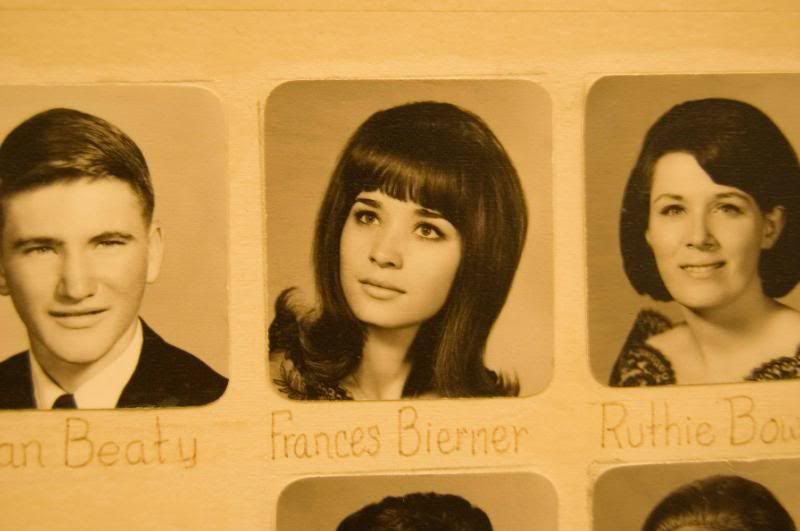 Check it out! Home made mannequins of historically relevant dead people! I read about these guys in college!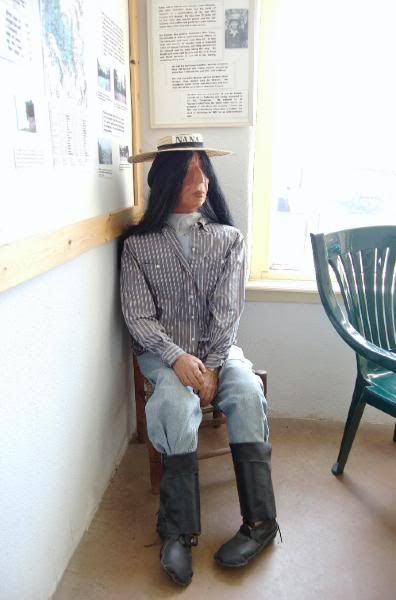 Why is there money in his coffee? Why does it seem like someone has had his coffee recently?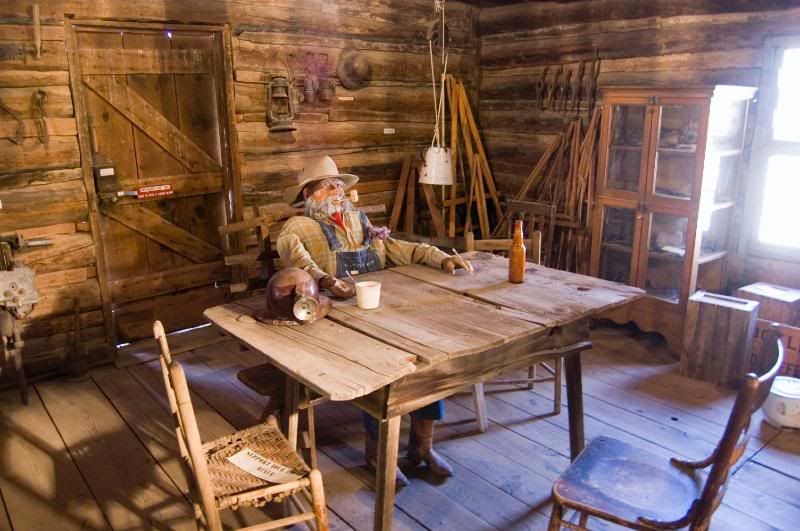 The fire is made of a spangled boa!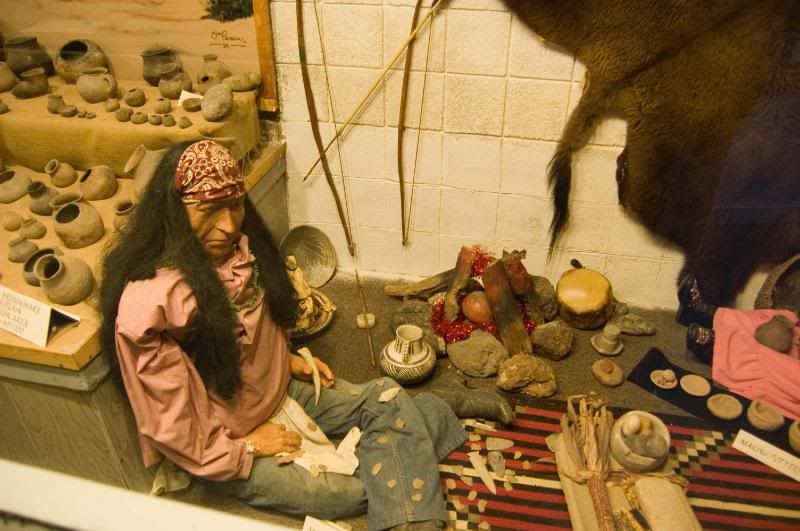 An Infirmed child really wore these!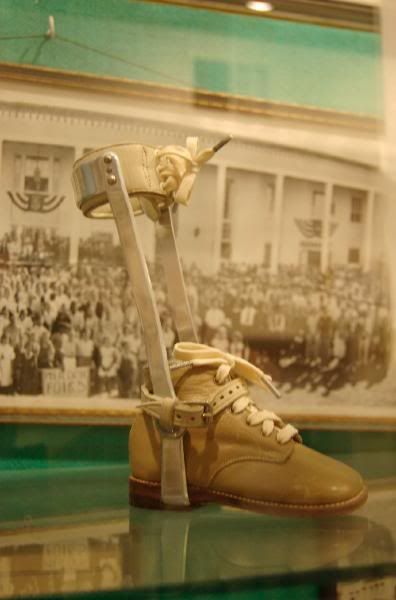 This guy had a sweet stage name!


Native American stuff presented as pretty things instead of design objects!
The only other person perusing the eclectic wall panels spent 40 minutes looking at the collection of 70 types of barbed wire. He was unafraid to touch each and every one and ask the woman working the shop what the narrative involved was. She pulled a stapled, photocopied pamphlet from the wall and sold it to him for ten bucks.
After I witnessed this transaction, my tummy started to rumble and I headed for the door. As I stepped back into the sunlight, I turned around and looked back into the museum to say goodbye to the other patron, only to see the shopkeep busily preparing another pamphlet to photocopy. I inquired where the man had gone; she said that the man had gone back to the barbed wire wall with the pamphlet and a pen.
---